Welcome to week 9 of the Diggin' Into Next Year linky party. It's been a few weeks since I participated and let me just say the 3 weeks I spent lying on the beach was nothing short of heaven. Give me a stack of books and I hardly needed to move the entire three weeks. When your biggest worry is where to go for dinner each night, you know you have arrived at the perfect vacation. But it's time to dig into next year and talk about technology instruction. No more sad reminiscing because I'm actually going to talk about integrating iPad technology into the primary classroom.
This past year I have been lucky enough to have four iPads for student use in my classroom. One was loaned to us by a parent, one was purchased by the principal for each classroom, one was from a Donors Choose project and the last was made possible when Santa brought my daughter a new iPad for Christmas. Her old iPad is the original first generation so it doesn't have all the capabilities but my students were able to quickly learn which iPads could do certain activities.
How do I use the iPad with my students?
Anyone used Patricia Cunningham's Guess the Covered Word activity? I've been using it for years off and on. But this year I had a group of emerging readers who were having a difficult time using letter/sounds and meaning simultaneously to decode difficult words. They were either giving words that would make sense in the sentence but wouldn't match the sounds or they would use the letter/sounds but come up with words that didn't work in the context of the sentence. So I knew Guess the Covered Word might be just the thing for this little group of readers. Unfortunately, all the good intentions in the world don't add up to early preparation before guided reading for me. I have a format I follow, but I still just wing it a lot. Let's be honest the books in first grade aren't too difficult to read while the kids are moving toward the reading table. So the dilemma keeps presenting itself in that I want to use Guess the Covered Word as an intervention for this group, but I never have it ready. As I'm listening to my students read, I am constantly trying to write a sentence, tear up post-its and cover the word letter by letter. If I do get it ready in time to use, I still have the difficulty of a bunch of torn up sticky notes and pulling them off one by one. After a week of cursing my lack of preparation as well as the unreliability of my sticky notes, I finally came up with a grand idea. Why not create pre-made sentences? Now I don't want a bunch of sentence strips to organize that have even more sticky notes falling off. So I set off to find a way to do this on the iPad. It took a week of testing ideas, but I finally found a format that worked exactly as I wanted.
Each sentence is in a separate slide show. Each one starts out with a missing word.
A tap in the corner advances the slide one at a time. Each advance shows one new letter.
I didn't put in all the slides, I think you get the idea.
If you hold your finger down, you get the pencil toolbar and can write directly on the slide.
You can easily make these slide shows in PowerPoint. They can be shown on the computer or you can use Keynote on the iPad (which is what I use).
How do my students use the iPad by themselves?
This was my first year putting iPads into the hands of my students. I'm sure you would have guessed this, but I was surprised at how much easier it was for them to learn to put in a password on the iPad than to open the file cabinet drawer.
My first use was math games. There is a great website called
Best Apps and Websites for Kindergarten, 1st and 2nd
that I used to help me find math apps to use. Some of the ones I like best for my first graders are:
Deep Sea Duel - It's you against Okta the Octopus, complexity goes from nice to nasty and you can choose the skill level of Okta from easy to hard. Your goal is to use 3 or 4 cards to add up to a designated sum. (Developed by National Council of Teachers of Mathematics (NCTM))
Operation Math Code Squad - This game can have up to four player actively playing at the same time. It has addition, subtraction, multiplication and division to choose from, plus you can play with mixed facts. You also choose the difficulty level from easy, medium and hard. Difficult includes multiplying up to the twelves. For first grade we stay on addition and subtraction, but it could be played easily in fourth or fifth for a quick facts practice. It's all about speed. (Developed by Spinlight Studio)
Line 'em Up - Working with number lines you have to put the numbers in the correct places. You can choose the difficulty of the numbers from 1-10 to in the 100's. (Developed by Classroom Focused Software)
Sums Stacker - I love this game because you have to use a collection of dice to make three different sums which means that there may be multiple ways to make a sum but you have to consider how you can make all three with the collection given to you. Instead of dice, you can use ten frames, tally marks, fingers, and more. You can also race against the clock or do it at your own speed. So many possibilities! (Developed by Carstens Studios Inc.)
Dominoes Addition - There are five different ways to play this game. You are given a sum and have to choose all the dominoes that equal the given number or you can find the missing number to equal a given sum or sort dominoes according to their sums. All focus on adding. (Developed by Aleesha Kondys)
Apples in Hour Hands - This game has your choice of grade level (K, 1 or 2) for determining difficulty. Students must match a traditional clock with a digital clock and then move the iPad to make the correct digital time fall into the basket. (Developed by GAMeS Lab at Radford University)
10 Frame Fill - This game shows a ten frame with blue chips. Then the player must tell how many more chips are needed to make ten. For your students who can see this quickly, they only need to choose their answer. But for others who are still building their sense of ten, they can drag chips into the frame and count them as they put them in. (Developed by Classroom Focused Software)
My students have one day each week during math workshop where their assigned center is math games. They have their choice of a variety of math games as well as any games on the iPad. The great thing about these apps is that for at the most a few dollars, the games are able to sync on all my iPads.
My second use is for listening centers. The iPads make great listening centers even without headphones. I have my students who are using iPads find a quiet place away from any other iPads to listen to the stories. I found stories for my students in a few different ways;
Storia - I downloaded Scholastic's Storia app and got a few free books from them. I also used any bonus points this year to purchase a few more books, but to be honest they are a little too expensive. If I'm paying that much, I want the physical book in our hands. However, by logging into the app on each iPad, they were all able to have the same books.
Storyline Online - This is a great website done by the Screen Actors Guild. The readers do a fabulous job. It took some time to do this, but with each iPad I went to each story they have online and placed an icon for the story on the the home screen. Then I put all of the icons into one folder that I labeled Storyline Online. All the students have to do is click on one and the webpage pulls up and they press play. Simple, free and the students hear some well done readings of some great books.
QR Codes - This is an inexpensive way to get a lot of electronic books for your students to listen to. The readings aren't professionally done, but to be honest you can get a lot of them for oh so cheap. Plus the students love scanning in the codes. You need to install a QR reader app to your iPad. I just use a free one and have had no problems. My team all pitched in and we purchased several of Sue Lynch's QR book products. Her big listening center has 60 books for $30 at regular price. But we waited for a big TpT sale, and then purchased the first at full price and then added additional licenses at 50% off and got the TpT discount. We got all of Mo Williams, David Shannon, Eric Carle and more. I think we ended up with close to 100 books. We printed off the codes, put them in sheet protectors and in a three-ring binder. They are a real hit with our students.
Storage and charging has been a little bit of a problem. I am going to purchase a plastic coated dish drainer to stand the iPads up in and then it can also serve as a charging station if I put it by a plug. Once I saw it on Pinterest I knew it would work better than what I've been doing. Also, I need to make sure and go back into the games and change their settings to more difficult levels as the year progresses. Another thing I would like to do better with is finding ways to use them as learning tools rather than just math practice and listening centers. We have just finished up an ocean animal unit where we wrote an ocean animal alphabet book. National Geographic Kids has some great information that would have been easy to bookmark for them to read and research from. I would also like to infuse more electronic math manipulatives into their problem solving tools. Number Rack is a free electronic Rekenrek that is easy to use. I just barely started using it with my students on the iPad this past year. And probably my biggest dream for use is reading fluency. I would love to have my student video themselves reading aloud. They can use a rubric to "grade" their reading, work on ways to improve and video themselves again. I think this would be such a great tool for them. I know there are so many ways to make iPads into educational tools not toys. I would love to hear any ways you use them as tools. Please leave me a comment.
I am definitely going to keep using the iPads for listening centers and math games. I doubt you could talk me into adding to my CD collection when the iPad makes such a great listening center without having to store more stuff. My classroom is bursting at the seams!
I have just one for you today. If you are at all like me and show up to your small reading group without the sentence ready or just plain old hate fiddling with the sticky notes, then you might be interested in my pre-made
Guess the Missing Word
. You can store the file of 150 different presentations in a cloud storage that you can access on your iPad such as Dropbox. Simply click "open in," choose Keynote and in a few seconds you are ready to go. After opening each presentation once in Keynote, it does save directly in Keynote which makes it even faster the next time. For a list of the words used, go to my
TpT store
and the thumbnails will show all 150 words and if you download the preview you get a sample presentation with the word cocoa.
Each time you advance a slide, a new letter appears for the missing word and the blank line gets shorter.
There are 150 different missing word presentations included in this product.
Thanks for stopping by for this post. For more posts about technology instruction, link up with other bloggers at: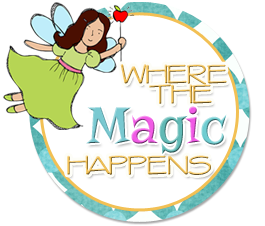 I will be participating one more time this summer in the Diggin' Into Next Year summer linky party. Come by next week for my last post in this series. It will be a blogger's choice week and I will be talking about daily calendar math. Hope you are enjoying these sunny summer days!